The holiday season is upon us, and what better way to celebrate than by giving the gift of sheer indulgence and tranquility? OGAWA Massage Chairs beckon you into a realm where luxury seamlessly melds with cutting-edge technology, introducing two mesmerizing additions to their lineup: the Master Drive AI Genuine Leather and the Master Drive Plus 2.0 Mocha.
Master Drive AI Genuine Leather: The Pinnacle of Opulence
Step into the world of unparalleled opulence with the Master Drive AI Genuine Leather, a massage chair that transcends the ordinary. Crafted with genuine leather that caresses your senses, this chair isn't just furniture; it's a work of art, a sanctuary that invites you to escape the chaos of the outside world.
At an initial SRP of Php 599,000, OGAWA's Master Drive AI Genuine Leather is now gracing homes at a special holiday offer of Php 439,000. What's more, you can make it yours with a 36-month installment plan of just Php 12,194.44 per month, making luxury more attainable than ever.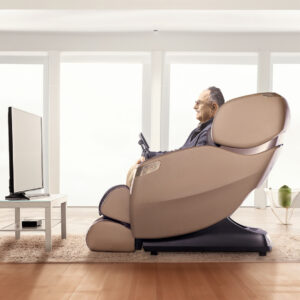 Picture this: the AI-driven massage system adapts to the unique contours of your body, orchestrating a symphony of relaxation tailored just for you. Multiple massage techniques, adjustable intensity levels, and a heated seat function elevate your experience, making every session a bespoke retreat for your tired muscles and stressed mind.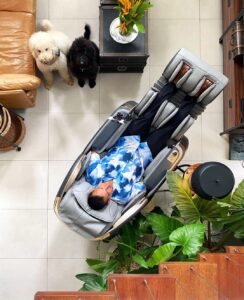 Film Director Sid Maderazo, an advocate for balancing work and family, shares his experience: "Master Drive AI 2.0 is tailored for you, this smart massage chair is a dad's best ally after a long day of work. Recharge, unwind, and enjoy those precious family moments with renewed energy."
Master Drive Plus 2.0 Mocha: Where Innovation Meets Warmth
 For those seeking innovation with a touch of warmth, the Master Drive Plus 2.0 Mocha is the embodiment of sophistication. Priced at Php 499,000, OGAWA is unwrapping a special holiday price of Php 339,000. Plus, indulge in the comfort of a 36-month installment plan at a mesmerizing Php 9,416.66 per month.
The Master Drive Plus 2.0 Mocha is not just a massage chair; it's a technological marvel designed to cater to your every need. A kaleidoscope of massage programs and customizable settings empower you to tailor your relaxation journey. The inviting Mocha color adds a touch of warmth to any room, creating an ambiance that perfectly complements its advanced features.
What sets the Master Drive Plus 2.0 Mocha apart is its intuitive body scanning technology, a virtual masseuse that maps your body's contours to deliver a massage experience as unique as you are. Whether you're seeking relief from muscle tension or simply unwinding after a hectic day, this chair provides a holistic and rejuvenating experience.
GMA Kapuso star Julie San Jose, an enthusiast of relaxation, shares, "I love massages after a busy workday, and the OGAWA massage chair gives me just that. It makes my body more relaxed and helps release muscle tension."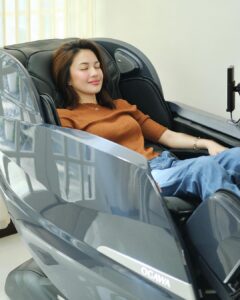 Why Choose OGAWA This Holiday Season?
 In a world where stress is omnipresent, OGAWA stands as a beacon of tranquility, offering a gift beyond measure – the gift of well-being. Their unwavering commitment to innovation, quality, and customer satisfaction positions them as the undisputed leaders in the world of massage chairs.
Navigate the holiday shopping frenzy with purpose and choose OGAWA for an unparalleled massage chair experience. This holiday season, invest in your health and happiness with the Master Drive AI Genuine Leather and Master Drive Plus 2.0 Mocha. Elevate your daily routine, indulge in luxury, and make every day a holiday for your body and mind. After all, the gift of relaxation is truly priceless. Dive into the lap of luxury and innovation this season with OGAWA.
Marianne Rodillo, Marketing Head of OGAWA in the Philippines, emphasizes, "We, at OGAWA Philippines, would want our customers to feel the joy of having a relaxed life. And with an OGAWA massage chair, we are sure to give you just what you need topped with high-quality performance and service. Especially this Holiday season when everyone is busy, we're sure OGAWA massage chairs are the best present you'd give yourself or your loved ones."
Operating at full capacity and with over 30 stores nationwide, that include a branch in One Ayala Makati, OKADA Manila, Gateway Mall 2, Shangri-La Plaza, SM Megamall, Greenbelt 1 & 5, Lucky Chinatown Mall, Robinsons Manila, Ayala Malls Vertis North, Eastwood Mall, Glorietta 3, Robinsons Magnolia, SM Fairview, SM North EDSA The Block, TriNoma, UP Town Center, Promenade 3, Alabang Town Center, Evia Lifestyle Center, Ayala Malls Manila Bay, SM BF Paranaque, and Newport Mall. For stores outside Metro Manila, OGAWA is located in SM City Bacoor, Ayala Solenad 3, and SM Sta. Rosa in Laguna, SM Seaside City Cebu, SM Lanang Premier in Davao, SM Clark in Pampanga, and SM City Olongapo Central.
Achieve wellness at home with your own personal masseuse, worry-free. For more details, visit OGAWA's official website and order online or you may also send inquiries to their Facebook page and Instagram page.