In today's fast-paced world, where time is a precious commodity, transforming your home into a haven of convenience and comfort is more important than ever. Prestiz, the leading brand in lifestyle home appliances, offers a diverse range of innovative products designed to revolutionize daily routines and enhance every moment spent at home. With their commitment to efficiency, convenience, and superior technology, Prestiz appliances have the power to transform your life, making it more enjoyable and hassle-free.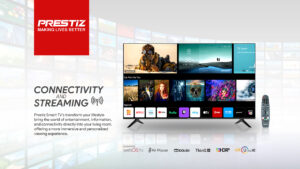 Unleash the Transformative Power of Prestiz TV: Immerse, Experience, Control!
Experience a new level of entertainment with Prestiz TV with Smart Android & WebOS Ultra HD TV. Immerse yourself in a vast, stunning display that brings your favorite movies, shows, and games to life with HDR 10 and MEMC Technology. The ultra-smooth and responsive 4K video quality ensures an exceptional viewing experience. Powered by WebOS and LG ThinQ AI, this intelligent TV is remarkably easy to use, thanks to its air-mouse magic remote and voice command capabilities. Enjoy endless entertainment possibilities and take control of your viewing experience like never before.
Immerse Yourself in Harmony and Unparalleled Audio Experiences.
Bring harmony and immersive audio experiences to your home with the Prestiz 2.1 Home Theater Bluetooth Speaker System that can transform into Soundbar Speaker. Whether you're enjoying a movie night or listening to your favorite playlist, these audio systems deliver exceptional sound quality and an audio experience like no other.
Transforming the world, and your living spaces with Prestiz Split Type Inverter Air Conditioner.
Beat the heat while saving energy with the Prestiz Split Type Inverter Air Conditioner. Incorporating Japan's latest air conditioning technology, this advanced appliance quickly cools down your room to provide the perfect climate. With up to 40% energy savings compared to conventional models, you can stay cool without worrying about soaring electricity bills. The special aircon filters ensure that you breathe in fresh and clean air throughout the day, promoting a healthier and more comfortable living environment. Beat the Heat responsibly while lowering bills and reducing your Carbon Footprint!
Transforming Laundry Weekends into Bliss with Prestiz Fully Automatic Top Load Washing Machine.
Laundry chores becomes effortless with the Prestiz Fully Automatic Top Load Washing Machine. Designed for efficiency and convenience, this appliance streamlines the process of washing clothes. Its spacious capacity accommodates large loads, saving you time and effort. With a range of intelligent features, such as customizable wash programs and water-saving modes, this washing machine ensures optimal cleaning performance while conserving resources. Experience the joy of fresh, clean laundry without the hassle.
Culinary Delights Transformed: Elevate Your Cooking Journey with Prestiz Infrared Tempered Glass Stove.
Upgrade your cooking experience with the Prestiz Single Burner Infrared Tempered Glass stove. Equipped with advanced infrared technology, this sleek appliance offers precise and efficient cooking performance. The tempered glass surface provides durability and ease of cleaning, while the single burner design maximizes space efficiency in your kitchen. Prepare delicious meals with precision and convenience, transforming your culinary adventures into delightful experiences.
Unleash your inner chef with the Prestiz 3 Burner + 1 Hot Plate Oven with Rotisserie.
This versatile appliance combines the functionalities of a stovetop, oven, and rotisserie, offering limitless cooking possibilities. With three burners and a hot plate, you can simultaneously perfectly cook multiple dishes. The spacious oven capacity accommodates larger culinary creations, while the rotisserie feature adds a delightful twist to your cooking repertoire. Elevate your culinary skills and enjoy gourmet meals from the comfort of your home.
Transform your home and lifestyle with Prestiz Appliances available online at prestiztv.com, Shopee, Lazada and Tiktok Shop. With innovative products ranging from immersive TVs and superior audio systems to energy-saving air conditioners, convenient washing machines, and versatile cooking appliances, Prestiz enhances your daily routines and brings convenience, comfort, and joy to your home. Embrace the transformative power of Prestiz and shop now to embark on your journey of transformation.