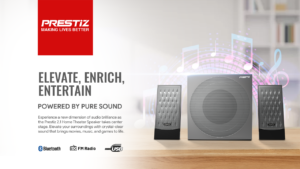 As the month of September approaches, a special day dawns on the calendar – Grandparents Day! This year, we have the perfect opportunity to show our appreciation and love for the pillars of our families – our beloved grandparents. At PRESTIZ, we believe in the power of meaningful gifts to make lives better, and on this occasion, we have curated a list of heartwarming presents that will surely light up their faces.
For Lola, and her cooking that you miss the most
Nanas hold a special place in our hearts, showering us with love and cooking the most delectable dishes that bring back fond memories. This Grandparents Day, express your gratitude by gifting her the PRESTIZ Top Burner. This kitchen marvel features 3 Gas Burners and 1 Electric Hot Plate, ensuring that her culinary adventures continue with ease. The 1 Chrome Grill with Light, Double Layer Glass Door, and Metal Curved Handle add a touch of elegance and functionality to her cooking haven. And as a bonus, we are throwing in freebies: 1pc Oven Cake Tray, 1pc Oven Grid, 1pc Stainless Steel Rotisserie Fork, and a 4 Set Leg Base. To add up to all the possible gifts for Nana are our gas stoves that she'll surely love cooking her painstaking recipes. With these products by her side, she might even inspire you to visit her more often every weekend.
For your Groovy Lolo, and his 60's music
Lolos are often our music buddies, reminiscing about their favorite tunes from the swinging 60s. Surprise him with the HTS-13UB Bluetooth Sound Bar Speaker – the ultimate audio companion for his musical journey. This sleek sound bar boasts enhanced sound drivers, delivering improved bass and reduced audio loss for an immersive listening experience. Whether he's grooving to classic melodies or enjoying movies, the HTS-13UB will elevate his auditory pleasure from his favorite viewing spot.
But that's not all, we have more audio wonders in store for you to add harmony to your Lolo's home every weekend. Introducing the HT-A3311M 2.1 HOME THEATER SPEAKER SYSTEM, a 2.1 Bluetooth Speaker that effortlessly connects with his PC or smartphone, ensuring he can jazz up his home with his favorite 60's vibe. And for an even more immersive experience, there's the HT-4234 2.1 HOME THEATER SPEAKER SYSTEM, a 2.1 Bluetooth Convertible Sound Bar Speaker that lets him enjoy tunes hassle-free with its 5.0 Bluetooth capability. Last but not least, the HT-3502L 2.1 HOME THEATER SPEAKER SYSTEM, another 2.1 Bluetooth Speaker, lets him rank up in style when he plays his favorite Matt Monroe music with its Prestiz Bluetooth 5.0 capability, 5″ Subwoofer, and two 3″ Satellites for a complete weekend bonding with Lolo and the whole fam!
For your super loves, Grand ma and Daddy Lo
For grandparents who enjoy modern entertainment, Prestiz offers a wide range of television sets, from digital to smart and webOS, available in various screen sizes ranging from 19 inches to 65 inches. Among these options, the 32″ HD Smart TV stands out as the ideal gift. With built-in applications and limitless entertainment possibilities, they can stream movies, videos, and music or even play games with ease. The seamless wireless connection allows them to effortlessly connect their phones to the TV, bringing all their favorite content to the big screen. Each movie night and TV show marathon will be a delightful experience for your beloved Grand ma and Daddy Lo. Whether they prefer a compact screen or a larger one for their viewing pleasure, Prestiz has the perfect television to suit their needs.
This Grandparents Day, let's come together to celebrate the wisdom, love, and warmth that our grandparents bring into our lives. Prestiz believes that these thoughtful gifts will not only make their day but also remind them of the cherished bond they share with their grandchildren. As they embrace the brand campaign "Making Lives Better," let's make this Grandparents Day a truly memorable one for them. Show your love and appreciation with these handpicked gifts, and witness the joy they bring to their faces.
Get these on prestiztv.com and their official Lazada and Shopee sites to get them at a huge discount.
Happy Grandparents Day!