Torrential southwest monsoon rains, worsened by the recent typhoon Egay, flooded large swathes and turned some areas in Bulacan into inland seas.
SM Supermalls and SM Foundation Inc., through its Operation Tulong Express (OPTE) program, mobilize simultaneous relief efforts and extend immediate relief assistance to typhoon-stricken communities in Bulacan.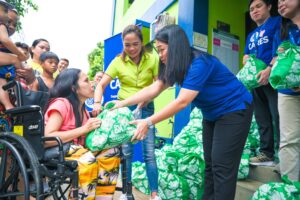 In the Municipality of Marilao, five barangays received truckloads of 'kalinga packs'. Volunteers from SM City Marilao were grouped, deployed, and sent to areas with the highest number of displaced families and recurring floodwaters, like Nagbalon, Lias, Ibayo, Poblacion, and Abangan Sur. With the help of rescue team from each barangay, a total of 1,000 families were given relief packs that contained rice, canned sardines, instant noodles, and bottled waters.
Rounds of relief operations, on the other hand, were conducted by SM City Baliwag in barangay Tibag, San Roque, Paitan, Poblacion, and San Jose. A total of 1,000 relief packs were distributed in flooded areas and evacuation centers in Baliwag.
SM Center Pulilan went a step further by conducting door-to-door relief pack distribution in Paltao and Longos in Pulilan and Wawa and San Juan in Balagtas. This house-to-house approach allowed volunteers to identify and assist individuals or families who might have been unable to access the centralized relief centers. This personalized and attentive method ensured that no one in need was left behind during this trying time. Around 1,300 families in Pulilan and Balagtas benefited from the relief operations.
The kalinga pack distribution effort is a part of Operation Tulong Express (OPTE), a social program of SM Foundation in collaboration with SM Supermalls and SM Markets. It aims to address the needs of communities during calamities and crises. Its implementation includes close coordination with SM Supermalls employees and volunteers.
Being one of the hardest-hit provinces, local officials have placed the province of Bulacan under a state of calamity due to severe flooding in several towns following incessant and widespread rains dumped by Typhoon Egay and the southwest monsoon.