President Ferdinand "Bongbong" Marcos, Jr. was the guest of honor at the recently concluded Union Bank of the Philippines' (UnionBank) first annual Innovation Festival.  His Excellency praised the Bank's efforts in utilizing blockchain technology to promote inclusive prosperity in the country, a goal aligned with UnionBank's "Tech-up Pilipinas" advocacy.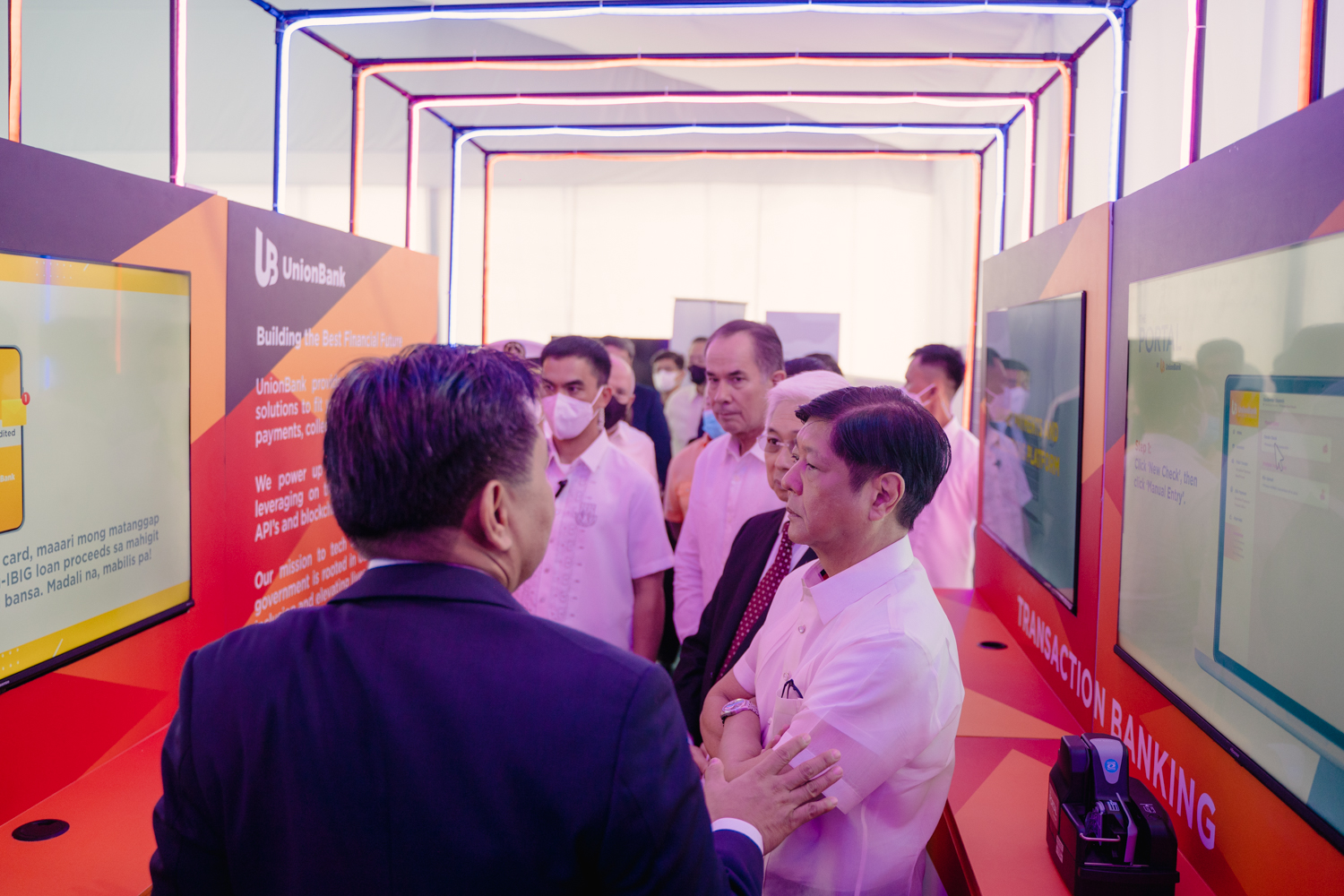 During the visit, PBBM also led the inauguration of the UnionBank Innovation Campus, the venue of the 3-day InnovFest. President Marcos gamely toured the Metaverse Tunnel jointly setup by the Bank's Transaction Banking Center and the Blockchain and API Business Group. Seeing the booth, he acknowledged the UnionBank's trailblazing blockchain initiatives.
The President specifically mentioned blockchain technology as one of the areas that we (the country) need to focus on. He further cited the three-year Digital Payments Transformation Roadmap of the Bangko Sentral ng Pilipinas, putting emphasis on the "twin objectives of converting at least 50 percent of the total retail transaction volume into digital form, and the onboarding of 70 percent of Filipino adults to the formal financial system by 2023."
"To achieve these targets, we need to hone our competencies in areas such as software development, data analytics, artificial intelligence, and blockchain technology, amongst others. This is in line with our goals under the Philippine Skills Framework," President Marcos, Jr. said.
Since it began looking into the possible commercial applications of blockchain in 2017, UnionBank has been successful in exploring new use cases and business models related to the technology. Just recently, the Bank started offering cryptocurrency trading via the UnionBank Online app and over-the-counter, making it the first Philippine universal bank to do so. This thrust is a significant part of its commitment to provide the best customer experience and to make cryptocurrency trading even more accessible to Filipinos. The establishment by the Bank of its Blockchain Center of Excellence, shows its serious commitment to expand the cutting-edge applications of this technology in full support of the Government's digitalization agenda.
Likewise, the Bank was able to cement its thought leadership status in the country's blockchain space with the launch of the best-selling book Opening the Archipelago: The Story of Blockchain. This was ably co-authored by UnionBank's Chief Technology and Operations Officer and Chief Transformation Officer Henry Aguda; Head of Blockchain and API Business Group Catherine Casas; and Atty. Nathan Marasigan. The book focuses on the history of blockchain technology in the Philippines.