The Kurimi Milk Tea Bar, the brand behind the Japanese-inspired milk tea and fruit tea, has launched its premium and fruit Yogurt series to serve their more than 60 stores nationwide.
This exciting event was recently held at the 5th level of SM City Grand Central and participated by their directors, family, friends, media, influencers and food vloggers.
The guests were delighted with the taste and texture of the popping boba sinker blended in their new Kurimi Yogurt Premium Series – Strawberry, Blueberry, Mango, Pineapple and Dragon Fruit.  People were gastronomically intrigued with the transparent aloe cubes and crystal ball in Kurimi Yogurt Fruit Series of Grapefruit, Honey Peach, Watermelon, Lemon and Green Tea.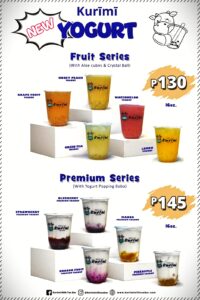 "Kurimi" sounds like the word "creamy" in Japanese.  It also connotes richness of everything in the Kurimi's store expansion, product development, innovation and continual improvement like Japan's Total Quality Management, culture, art, J-pop music and so on.
Kurimi was established in 2019, a concept that originated from Fukuoka, Japan.  Fearless during the challenging times of the pandemic; and now stronger and ready to thrive in the global market.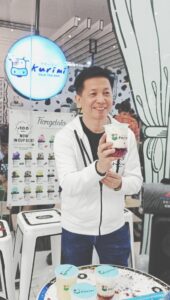 The Kurimi Milk Tea Bar Enterprises Corporation's CEO and President Richie Cuna, a serial entrepreneur and with more than 30 years in leading organizations and franchise businesses showed to guests that the business model like Kurimi can be great, unstoppable and a pandemic-proof brand.
Awesome and Instagram-able store, Kurimi is known as the first two-dimensional (2D) food and beverage shop in the Philippines with anime drawings painted on its wall like in SM Grand Central's store, Pikachu and Pokemon were pretty remarkable as part of the feel of monochromatic black and white interiors.  While other Kurimi stores have different anime characters depending on the request of the franchisees.
With the new Kurimi Yogurt series, other quality products, franchisor's support, 2D store ambiance, Odine Empaynado, the store franchisee, expressed her team's solid commitment to success to Kurimi family.
Kurimi dance was shown too as a prelude to Tiktok dance challenge, the contest among Kurimi family and their followers.  The mechanics of the dance contest will be announced soon.
Kurimi enjoins the Gen Z, the millennials, families and friends to try their new Yogurt Series, the way to happiness and beautiful bonding relationships.  There's no need to wait for Mother's or Father's day or any special occasions to celebrate memories, Kurimi's invitation is to make Kurimi part of an individual's life and daily habit!
For more information about the products and franchise, visit their website at www.kurimimilkteabar.com and all their social media platforms.