Summer can be especially punishing for the tropics in the summer. And in case you haven't noticed, the sun is starting to beat down harder as the sun shines higher and the breeze blows warmer for the season.
Right on cue, Prestiz's reliable line of air conditioning solutions comes in to save the day.
If keeping cool is a top priority for summer, be sure to visit Prestiz's selection of window-type air conditioners to help you stay cool and comfortable while still enjoying the benefits of advanced energy-saving technology, smart features, and stylish design. Let's take a closer look at what makes Prestiz's window-type air conditioners a must-have for any home this summer.
Prestiz's powerful cooling system is perfect for any room in the house, whether it's the  living room to the bedroom. But what makes Prestiz's air conditioners truly unique is the technology behind them. Their window-type air conditioners feature energy-saving technology that makes it easier for everyone to enjoy summer in complete comfort. Each unit is designed to consume less energy while still providing the same reliable, cooling performance, which makes them an ideal choice for eco-conscious consumers who want to reduce their energy consumption and save money on their electricity bills.
The units also offer a waterproof and rustproof body and electric shock protection. This ensures that Prestiz air conditioners are built to withstand daily wear and tear easily. Additionally, each model comes with a 1-year warranty for labor as well as parts, a 5-year warranty on its compressor for residential use, or 3-year Compressor warranty for commercial use.
Every model comes in streamlined and stylish designs and Prestiz air conditioners come in a range of sizes and styles so you can choose a unit that fits exactly what you need. Window-type units, which are air conditioners that can be installed in a window or wall opening may be exactly what you need to cool down. Prestiz window-type units are available in 0.5 HP, perfect for 8-10 square meter rooms, 1.0 HP, ideal for 13-16 square meter spaces, or 1.5 HP, suitable for 17-21 square meter rooms.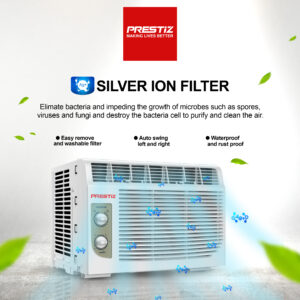 The brand's continued commitment to research and development ensures Prestiz products undergo consistent research and development so it continues to evolve and improve. Whether through cutting-edge technology or the implementation of user-friendly features, Prestiz is always striving to provide the best possible experience for its customers.
Prestiz Window Type Air Conditioners are available in 0.5 1.0 and 1.5. Split-type models are also available at 1.0, 1.5, and 2.0 HP. Visit our Shopee or Lazada page to browse through our products.
You can also drop by our store locations located in: FC Home Center Balanga Bataan, FC Home Center Batangas Balayan, FC Home Center Batangas Calaca, FC Home Center Batangas Poblacion, Home Along Valenzuela, Malanday, Home Along Malabon, Home Along Parañaque Moonwalk, Home Along Rizal, Cainta Rizal, Home Along Rizal, Binangonan and Home Along