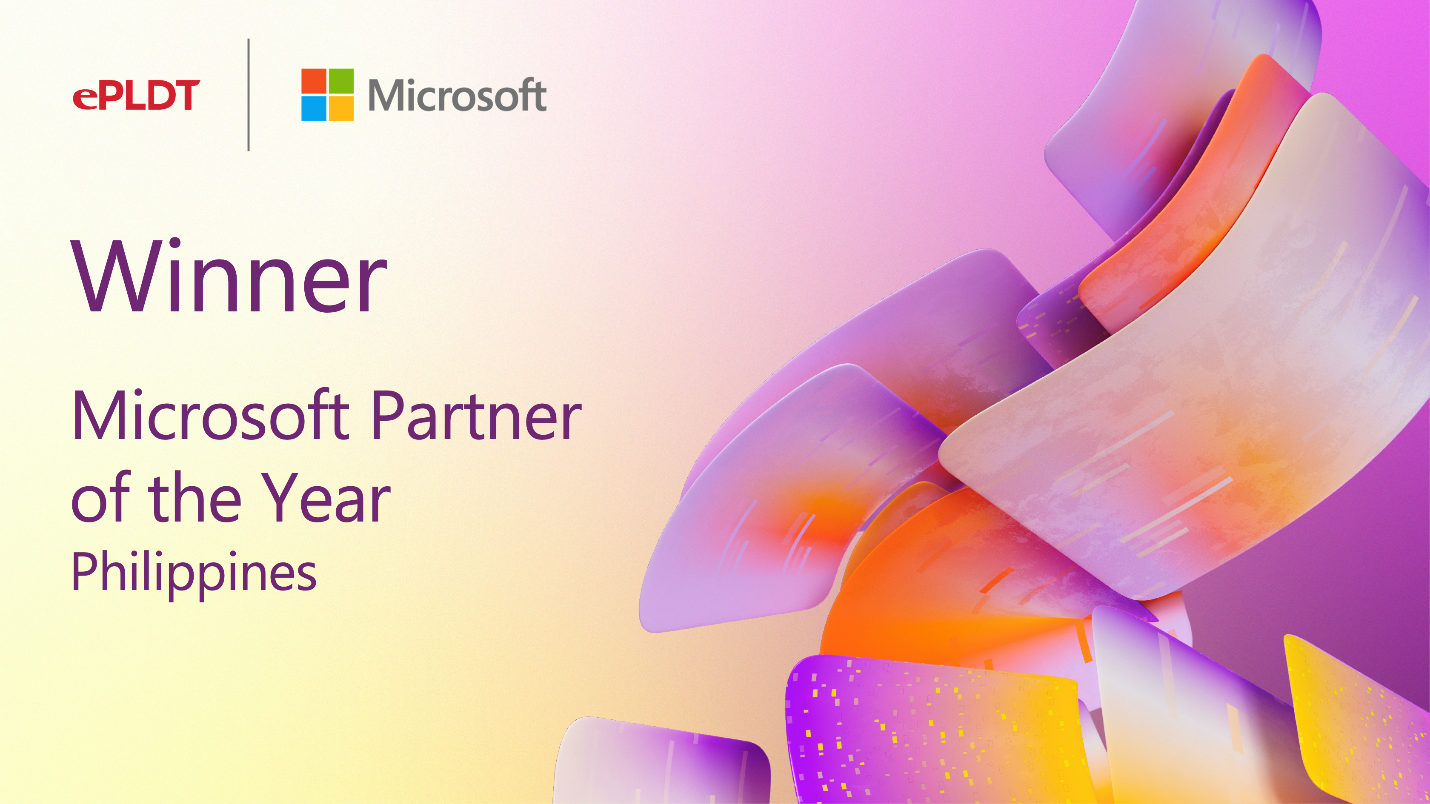 ePLDT Inc., the ICT arm of PLDT Enterprise and the country's leading enabler of digital solutions, has been awarded by Microsoft as its 2022 Country Partner of Year for the Philippines.
Victor S.Genuino, President and CEO of ePLDT, has expressed his gratitude for the recognition, highlighting their long-standing partnership to deliver solutions that create real value through Microsoft's leading cloud technology.
"We are grateful to Microsoft for this award. This recognition affirms ePLDT's thrust to digitally enable organizations and help enterprisesaccelerate their business goals. We will continue to offer Microsoft solution packages, combined with our capabilities, as wejourney with our clients in pursuit of their infinite potential," said Genuino.
The said award signifies ePLDT's outstanding achievements and innovations over the past year, as it leverages Microsoft cloud and platforms to build solutions and services, and in turn, drive substantial growth in its customer base and revenue.
"We are honored to receive the Country Partner of the Year award from Microsoft which is proof of our commitment to delivering customer-focused digital innovations. We look forward to creating a more promising future with Microsoft as we further this collaboration through enabling more local businesses," said JojoGendrano, FVP and Head of PLDT and Smart Enterprise.
Since 2015, ePLDT has been an active partner of Microsoft, co-innovating to offer a slew of cloud-based solutions such as infrastructure services, cloud productivity, and collaboration tools to enable businesses.
Nico Alcoseba, PLDT Enterprise FVP & Head of Product Management & Marketing Group, noted that through the years, ePLDT and Microsoft have empowered businesses all over the country to further boost and enhance their operations.
This was made possible through ePLDT's relentless efforts to grow its cloud business by not only doing license push but also making Professional Services and eventually Managed Services become the primary source of revenue with the deployment of solutions such as Microsoft 365 Business and Enterprise Plans, Microsoft Enterprise Mobility + Security, Microsoft Surface bundled with Intune, ePLDT Calling for MS Teams plus ePLDT's Professional Services related to Modern Work and Security plus Azure Public and Azure Stack which is hosted in ePLDT's Vitro Data Center.
Every year, Microsoft offers a variety of awards for its partners with the aim to inspire and drive partner success in driving Microsoft's business by leveraging on Microsoft technologies that provide relevant solutions across all industries and market segments
These awards celebrate the successes and innovations related to partner competencies, cloud technology, and entrepreneurial spirit, as well as highlight the great work done by partners in various industries and philanthropy arenas.
Other recognitions received by ePLDT through the years include Microsoft Country Partner of the Year in 2017, Tech Intensity Partner of the Year (Philippines) in 2020 and 2021; Para Sa Bayan Award (LearnAsOne Initiative) in 2020, and Azure Customer Recruit Partner of the Year (Philippines) last year.