Regroe and Pregroe celebrated Alopecia Awareness Month at the Seda Hotel Bonifacio Global City on September 21, 2023.
This year's theme "Educate.Activate.Advocate." is focused on celebrating uniqueness and raising awareness about the challenges faced by those with alopecia.
Said event also marked Regroe's 35th year in the industry, being the only locally made hair grower using Minoxidil with proven clinical studies among Filipinos. This world-recognized medicated hair restorer was invented by Dr. Vinson B. Pineda, deemed as the Father of Philippine Dermatology, and has been giving hope among millions of people suffering from hair loss. This foundation eventually led to Dr. Pineda's alopecia empowerment advocacy through education in social media platforms, accessibility to Regroe Minoxidil and Pregroe hair care products, and patient care in all sixteen (16) Dermclinic branches which he also established.
The event-filled afternoon was graced by the press, influencers, and trade partners. There were free hair and scalp checks, photo booth activities, press kits and product goodies for everyone.
Regroe brand ambassador, Kelley Day, shared her alopecia journey through a testimonial speech. Fellow brand ambassador Jeric Gonzales, on the other hand, serenaded the audience and had a sit-down interview about his daily Regroe and Pregroe hair care regimen, emphasizing prevention is better than cure with regard to hair loss or thinning hair.
Alopecia management and regaining confidence were further discussed by Dermclinic President, Dr. Angela D. Pineda, followed by a Q&A portion with the guests.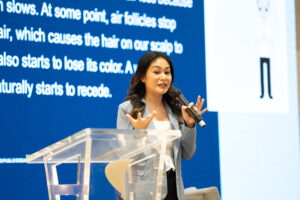 The gathering's finale was the launch of Regroe Botanicals and Pregroe 4inONE Menthol Anti-Dandruff Hair Care product lines, which will be available soon in leading drugstores and supermarkets nationwide.