Throughout the month of June, The Manila Hotel's Café Ilang-Ilang will showcase a range of delectable dishes featuring the exceptional quality and flavor of local Kurobuta pork.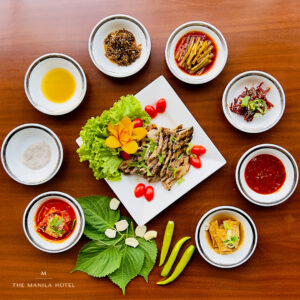 Kurobuta, a type of pork from the English county of Berkshire, is a Japanese word that means "black pig." Renowned for its abundant marbling, tenderness, and rich flavor profile, Kurobuta pork is often referred to as the "Wagyu of pork."
"We are excited to elevate the buffet spread of Café Ilang-Ilang with the produce of Esguerra Farms," says Konrad Walter, The Manila Hotel's Executive Chef. Esguerra Farms, located in Lipa, Batangas, has been dedicated to employing sustainable and ethical farming practices that prioritize animal welfare and environmental conservation. Having its own Kurobuta Village inside the farm, the pigs are raised in a safe, clean, and stress-free environment. The pigs are sheltered, fed, and pampered resulting to a higher pH level that allows maximum marbling and allows retention of its natural flavor and healthier color of the meat.
Café Ilang-Ilang's culinary team curated a buffet dinner spread that will include the remarkable qualities of Kurobuta pork. Some of the featured dishes include: Pork Ramen Soup, Kurobuta Pork Stew in Red Wine with Sweet Potato and Prunes, Korean Style Grilled Pork Belly, Kurobuta Pork in Mandarin Sauce, Roasted Crispy Pork Pata, Spicy Thai Mince Kurobuta Pork Salad, and Mini Ensaymada with Pork Lard. These mouthwatering offerings are available on a rotating line-up at Café Ilang-Ilang's Dinner Buffet every Monday, Tuesday, and Wednesday from June 5 to 28, 2023. Rate is Php 3,145 nett per person. Half rate applies to children ages 5-12 years old, while 4 years old and below are free of charge.
For inquiries and reservations, please call +632 8527 0011 or +632 5301 5500, or email restaurantrsvn@themanilahotel.com.