The Bureau of Fire Protection (BFP) and SM Supermalls recently conducted nationwide simultaneous fire drill in more than 80 SM Supermalls.
With the theme "Sa Pag-Iwas ng Sunog Hindi Ka Nag-iisa" and #thinkfiresafetynow, the fire drill on highly dense occupancy such as SM Supermalls is one of the highlights of the celebration of Fire Prevention Month 2023 by both BFP and the SM Group.
SM City Baliwag led the fire drill in Bulacan observed by the Bureau of Fire Protection (BFP) headed by Regional Chief, Fire Safety Enforcement Division CINSP Michelle Hadjula, together with BFP Baliwag City Fire Marshall CINSP Dianne Roselle G. Tamayo and Chief Fire Safety Enforcement Unit SF04 Niño N. Villafuerte.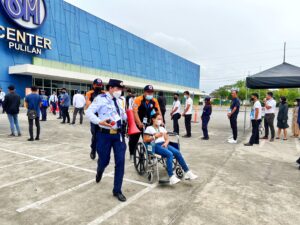 A scenario was presented in SM City Baliwag where a short circuit happened in one of the food establishments located at the Central Terminal of the mall, causing a fire and resulting in a casualty. The commander of SM Emergency Response Group (ERG) swiftly mobilized the Fire Brigade Team to deal with the situation while the SM Emergency Response Group promptly carried out rescue operations, evacuated people, and cleared the affected area.
SM City Marilao and SM Center Pulilan also took part in the nationwide simultaneous fire drill with a series of quick emergency response activities that include carrying out first aid procedures for projected situations such as severely injured victims and setting up an emergency command center and communication system.
The SM Supermalls nationwide fire drill in partnership with the BFP is one of the ways in which SM amplifies its commitment to contribute to the creation of risk-resilient societies and promoting a global and national culture of disaster risk reduction and resiliency. The Public-Private Partnership (PPP) of SM and BFP give priority to the constraint training of SM's personnel to respond to disasters including earthquakes and destructive fires. This will help ensure the safety of SM's stakeholders including customers, tenants, employees, nearby communities and the general public.
The PPP of SM and BFD also include fire prevention seminars with tenants and employees and conduct of BFP awareness activities inside SM facilities like the Mobile Business One Stop Shop (MBOSS), Fire Square Roadshow, Oplan Iwas Paputok. Information dissemination campaigns on fire prevention are amplified with the use of cinemas, electronic billboards, and social media platforms.
The partnership of SM and BFP demonstrates the progress made by the two entities in preventing disaster risks and losses of lives, livelihood and health-in line with the Sendai Framework for Disaster Risk Reduction 2015-2030.